» Volumetric Cup Filler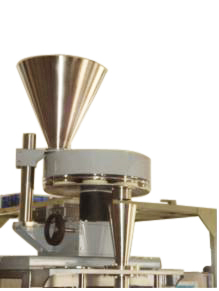 Overview :
Volumetric cup filler works on constant volume principle & is suited for the free flowing products with constant bulk density.
The working concept is quite simple. If you imagine dipping your measuring cup into product & then leveling it with straight edge knife. This is the basic principle behind cup filler except that the product flows from a hopper above and the knife is the edge of the hopper.
It is suitable for the free flowing products like salt, detergents, sugar, rice & also for other products, which are free flowing & bulk density is constant.
Features
Precision Machines Sliding Cup assembly.
Contact parts manufactured form Stainless Steel 304. Can be supplied with Stainless Steel 316L as option for corrosive products.
Driven by servo motor from SIEMENS – Germany & integrated with bagging machine for synchronized operation.
Weights can be adjusted in running condition.
Weight accuracy depends upon individual piece weight, constant hopper level, individual piece weight, speed of filler & cleaning of filling areas.