» P250 4S / P350 4S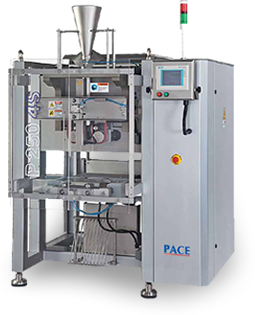 Overview :
P250 4S Series is high speed intermittent vertical form fill seal machine controlled by motion CPU from Siemens - Germany.
Each function – sealing, bag pulling, pull roller & unwinding has individual servo motors & drives controlled by high end motion CPU from Siemens Germany loaded with intelligent software.
All servo motors & key components are networked with PROFIBUS to control & monitor them.
P250 4S Series can be synchronized with any one of the following fillers to pack any kind of solid products:
Multihead Combination Weigher
Volumetric Filler
Auger Filler
Linear Weigh Filler
Index Conveyor Belt


| MACHINE SPECIFICATIONS | P250 4S | P350 4S |
| --- | --- | --- |
| Technology | Intermittent Motion | Intermittent Motion |
| Bag Width | 75-250 mm | 125-350 mm |
| Bag Length | 375 mm | 600 mm |
| Power Consumptiom | 4.0 KW/HR | 5 KW/HR |
| Air Requirements | 2 CFM @ 6 bar | 2 CFM @ 6 bar |
| Maximum film reel width | 530 mm | 730 mm |
| Maximum film reel diameter (D) | 450 mm | 450 mm |
| Core Diameter | 76 mm | 76 mm |
| Maximum Machine Output | 120 Bags / min. | 120 Bags / min. |
| Machine Weight (Approximately) | 1050 kg | 1150 kg |
| Dimensions (Std) L x W x H in mm | 1840 x 1360 x 1920 | 2050 x 1550 x 2150 |
Snack Food Products
Cereal and Health Foods
Confectionery
Tea
Nuts and Dried Fruit
Granulated Products
Pasta and Pulses
Coffee
Ground Spices
Whole Spices
Frozen
Tablets & Capsules
Hardware & Plastic Components
Multihead Combination Weigher
Volumetric Filler
Auger Filler
Linear Weigh Filler
Index Conveyor Belt



Pillow Type Centred Sealed



Block Bottom with Gusseted



Gusseted
Optional features
Gas Flushing / Gas Purging
Gusseting / Gusseting with Block Bottom
Round / Euro / D Cut Hole Punch Device
Dust extraction system

VFFS MACHINES
» 1S Series
» 3S Series
» 4S Series
» Quad Seal
» Salt & Corrisive Products